SEA FREIGHT

H – XPO Mandiri Int'l has a worldwide network around the world. This is enabling us to monitor your cargo track effectively. We could be your business partner for:
Determining the optimum economic routing cargoes.Accomplishing your buyer's objective of safely & timely delivery
Providing a fast document processing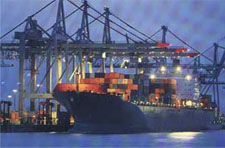 You can entrust H – XPO Mandiri Int'l to move your Sea Freight cargoes direct from suppliers through to final destination, with total peace of mind.
More Services
Contact Us

PT.H-XPO MANDIRI INTERNATIONAL

Komplek Griya Kemayoran Unit FC-06
Jl. Industri Raya No.9-11, Gunung Sahari,
Jakarta Pusat 10720, INDONESIA
Tel: +6221-6251021 / 6251024
Fax: +6221-6251028
Mobile: +62812-8181-8846 / +62815-996-5917
Visitor